Environmental Awareness
D.A. Printers have an ongoing policy to reduce waste and our need for harmful chemicals. With the introduction of digital colour printing, D.A. Printers have chosen to invest in the latest Xerox equipment using  Emulsion Aggregate Toner. The toner is a water-based particle that is "grown" rather than mechanically produced. It requires far less energy to make, is bio-degradable and fuses at much lower temperatures than other digital toners. This means that far less energy is required to print using our digital equipment than those using high energy devises.  All consumables are recycled using Xerox's environmental programme.
In our studio we have moved to CTP (computer to plate) systems. This eliminates the need for film and the chemicals required to process it. We use a Glunz and Jensen ictp system which is able to produce non coated aluminium plates which are imaged without the need for further processing with developers. The advantages of aluminium plates over polyester plates are that they produce a superior image, can be stored and used for re-prints and when no longer current can be recycled.
We also produce wide format inkjet products. We use an Epson 9880 which uses an aqueous ink which dries without the need for harmful solvents. We participate in the Epson LFP Collection Programme, whereby all empty ink cartridges are disposed into a specially supplied container and collected when full for recycling and refilling.
By printing with digital technology we are able to produce litho quality work without the need for chemicals and with the minimal requirement of energy. Further to this we see a huge reduction in waste paper as no extra material is required to 'make ready'.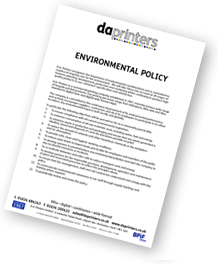 Where quantity dictates that litho is the most cost effective option, we ensure that our inks are friendly to the environment. Being based on 100% vegetable, non volatile, oils, there are no harmful emissions or odour even at the highest temperatures. Because our inks dry by absorption our presses can run without the need for energy hungry UV dryers. As with all lithographic printing, solvents are required for cleaning, however we ensure that any solvents are used responsibly and to a minimum.
We encourage our customers, where ever possible, to use FSC accredited materials and when copying multi-page documents always ensure that pages are printed on both sides of the paper. We have a DFT/OGC account and are able to purchase recycled stock at preferential rates.
All our packaging is either recyclable or reusable.
With regards to our waste, we ensure that it is sorted and where ever possible goes to be recycled. Even our shredded paper goes to a local stable yard to use as bedding.